Three dimensional scanning, imaging and printing
solutions for the everyday world.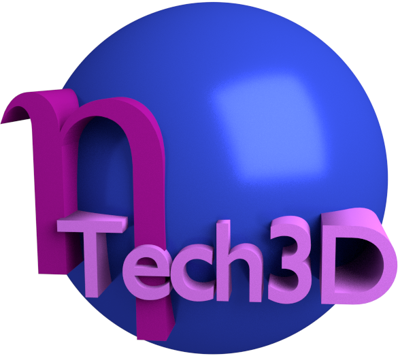 3D Scanning rapidly captures the surface geometry of a physical object and converts it to a digital 3D model format.  These objects may be:
•    virtually any size and shape.
     (very large objects may require multiple scan sessions and consolidation of the resulting model files)
•    animate, provided that they can remain still for the duration of the scan.
3D scanning acquisition software yields a data file containing a collection of three dimensional co-ordinate points (verticies) which when connected via a series of lines (edges), forms a faceted mesh of polygons to represents the surface topology of the scanned object.  
Associated texture (colour/patterns) may also be captured and later re-applied to the surface of a viewable image or printed object.
2D/3D Imaging encompasses many facets (pun intended) and in this context describes the process of improving, supplementing and/or transforming 3D model data (captured or generated) into formats used by other visualization technologies.  These processes can:
•    remove extraneous surface data points from a raw scan model file.
•    smooth irregular/unwanted surface features on the model.
•    fill-in missing surface geometry (holes/gaps) or add new surface features to the model.
•    generate comparative parametric geometry and/or measurement data from the model for subsequent analysis and/or importation into Computer
     Aided Design (CAD) application software.
•    prepare the model incorporation into digital sculpting and painting application software.
•    map colours/patterns to surface of the model.
•    render still and/or animated images for 2D visualization.
•    prepare the model for 3D printing.
3D Printing (also referred to as "Additive Manufacturing") converts 3D model data into a physical object to produce:
•     rapid prototyping models for new product concept communication/visualization or form,
      fit and function evaluation.
•     scaled architectural models for concept communication/visualization.
•     low volume production tooling, jigs, fixtures or molds.
•     casting patterns. 
•     medical implants, exoskeleton or immobilization device components.
•     scaled reproductions of life-sized objects or people.
•     virtually anything you can envision...